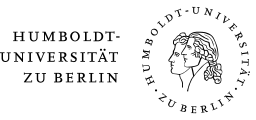 Oxford Berlin Partnership
---
Lectures, Events, Meetings and Future Projects
The Centre has been strongly involved in the Oxford-Berlin Partnership from the start and continues to support it with a number of events and projects.

Regular meetings with Professor Alastair Buchan, who has led the set-up of the partnership on behalf of Oxford University, assistance from our numerous Oxford alumni Advisory Board members such as Sir Paul Lever and Professor Lyndal Roper, and from Professor Philip Bullock, Director of The Oxford Research Centre in the Humanities (TORCH), and other colleagues from Oxford and the Berlin universities, have helped in our endeavours to promote not only our own projects, but perhaps more importantly, the partnership as a whole.

Currently, Stefano Evangelista and Gesa Stedman are preparing an exhibition on Anglophone Writers in Berlin in the early 20th century which will be hosted by Literaturhaus Berlin and Humboldt-Universität in 2021. The Bodleian Library, The Stephen Spender Trust, and the John Fell Fund are among our Oxford partners. The exhibition is expected to travel to the UK after its showing in Berlin.

Last semester's highlight was the joint Lange Nacht project All the World's a Page – How to Travel the World with Literature, prepared by an international group of Oxford and Berlin doctoral students and postdocs which attracted large crowds of visitors to the Senatssaal of Humboldt-Universität.

One of the Centre's longest-standing Oxford-Berlin co-operations is run by our law professor, Gerhard Dannemann:

The Oxford University Comparative Law Forum promotes the study and discussion of legal issues from a comparative perspective by taking full advantage of the benefits of online publication as a fast, cheap and widely accessible means for publishing serious academic writing. It was founded by Gerhard Dannemann in the year 2000 when he was still teaching at the University of Oxford. He remained general editor of OUCLF when he took up a professorship at the Centre for British Studies in 2003.  He is presently supported by Dr Sam McIntosh, Lecturer in Law at the Centre, as Assistant Editor, and Leo Kämpfe, student assistant at the Centre, as HTML editor. With continuing support from Oxford's Law Faculty, including several co-editors, OUCLF is an example of longstanding and ongoing cooperation between Humboldt Universität and the University of Oxford.