Die ungewollte Diskriminierung in der internationalen Rechtsanwendung: zur Anwendung, Berücksicht und Anpassung von Normen aus unterschiedlichen Rechtsordnungen
---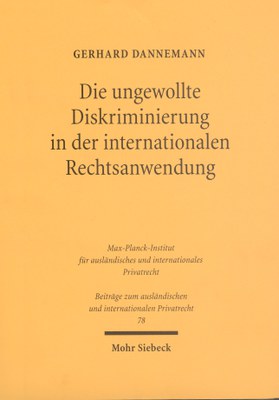 Cases connected to different legal systems can get a rough ride, simply because applicable rules are not dovetailed to each other. This is frequently the case if one of the systems involved belongs to the common law and the other to the civil law world. In combination, they can produce results which are not intended by either system involved - insufficient maintenance or benefits, heirs receiving more or less than they should, criminals punished too harshly, marriages which cannot be divorced, cases which no court wants to hear. It is argued that courts are empowered to modify or ignore applicable rules in order to avoid such accidental discrimination, to the degree that legislators would be prevented from deliberately discriminating international cases under higher ranking principles of equality of treatment. On the other hand, the author criticizes Continental doctrine and court practice which seeks to give the same far-reaching powers to courts in other complex international situations.
Internationale Rechtsfalle verfangen sich leicht zwischen schlecht aufeinander abgestimmten Regeln aus unterschiedlichen Rechtsordnungen. Zusammen produzieren sie Ergebnisse, die keine beteiligte Rechtsordnung will - Falle von unterversorgten Arbeitslosen, ubervorteilten Erben, zu schwer bestraften Kriminellen, unscheidbaren Ehen, Streitigkeiten ohne zustandiges Gericht. Der Gleichheitssatz in Art. 3 Grundgesetz verbietet, solche ungewollten Diskriminierungen hinzunehmen und befugt zugleich Richter und Behorden, sich dafur uber niederrangigere Rechtsnormen hinwegzusetzen. Eine solche eAnpassung' von Rechtsnormen ist entgegen gangiger Praxis aber kein Allheilmittel bei der Uberwindung sonstiger komplexer Probleme in internationalen Fallen. Hier bleiben auch Richter an das Gesetz gebunden. Vor dem Hintergrund dieser Problematik gelangt Gerhard Dannemann zu einem neuen Verstandnis zur Anwendung auslandischen Rechts und ihrer Abgrenzung zur blossen Berucksichtigung nicht anwendbarer Rechtsnormen. Er befasst sich mit Grundfragen des Internationalen Privatrechts und bezieht volkerrechtliche und verfassungsrechtliche Gesichtspunkte ausfuhrlich mit ein.
Gerhard Dannemann. Die ungewollte Diskriminierung in der internationalen Rechtsanwendung. Zur Anwendung, Berücksichtigung und Anpassung von Normen aus unterschiedlichen Rechtsordnungen (Accidental Discrimination in the Conflict of Laws:  applying, considering and adjusting legal norms in cases involving different jurisdictions). 2004. Tübingen: Mohr Siebeck.